The last Phelps Dodge smokestack in Ajo was demolished on June 20.
Below is an animated gif of the stack falling.
Below that are two links to QuickTime movies.
You will need the latest version of Quicktime and operating and browser software to view the movies.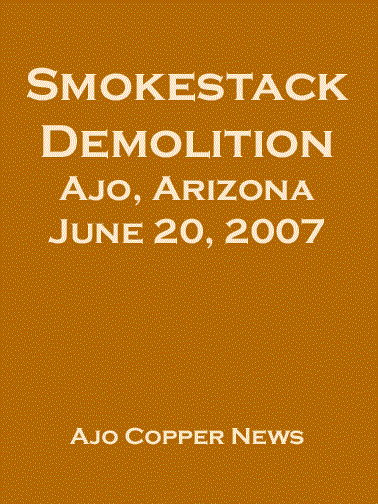 QUICKTIME MOVIE LINKS

The Stack Goes Down --
small
(660 KB)
The Stack Goes Down --

medium

(1.5 MB)


Visitors since June 27, 2007

SEARCH PUBLIC NOTICES
Archives . Subscriptions . Advertising . Submission Requirements . Community Information . Contact Us . Search Site


Copyright 2007 by Ajo Copper News, PO Box 39, Ajo, AZ 85321, USA


Arizona is abbreviated AZ and Ariz on many sites. Try all three in search engines if you aren't getting the results you want.